Purchase your Coins!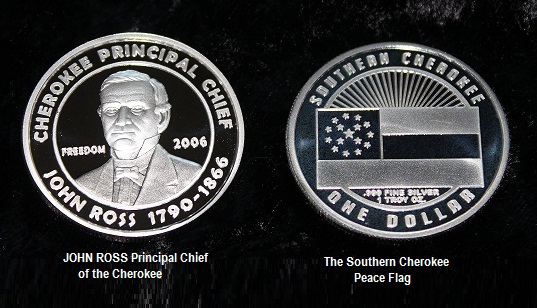 JOHN ROSS, Principal Chief of the Cherokee - The Greatest Chief of all the Cherokee.
This 2006 Southern Cherokee Silver Dollar is being reissued to commemorate the 150th Anniversary of the 1866 Treaty with the Cherokee. John Ross was Principal Chief of all the Cherokee during the infamous "Trail of Tears."
This stunning .999 Fine Silver 1 Troy Ounce John Ross Silver Dollar arrives in its own capsule.
Own a piece of Cherokee Indian History!
$50.00 USD
(includes shipping and handling)
A Certificate of Authenticity is included with every order. Your coin will arrive in 5-6 weeks. Sent USPS, unless otherwise noted. SORRY, NO CODs!
International shipping charges not included. Applicable Taxes are the responsibility of the buyer.
For every coin sold, a donation will be given to help save horses.
To pay by PayPal, click on the link and it will take you to a Secure PayPal Website to process your transaction.
After you finish logging in or entering all credit card information you will need to confirm the payment in the PayPal system. After confirming the payment you will receive a transaction ID. You will have some other options on PayPal, but there will be a button to "Return to Merchant." After you click on the link to return, you will be prompted with a warning that you are going to an unsecured site.
That's it! Congratulations, you've completed your purchase! You will also have received emails from PayPal as well as from the Southern Cherokee Government for receipts and invoices.
If you have any questions on this process, please don't hesitate to Contact Us for help.